Jahja Ling's distinguished career as an internationally renowned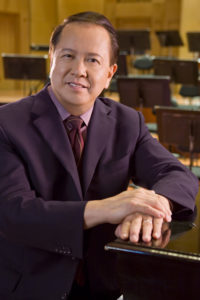 conductor has earned him an exceptional reputation for musical integrity, intensity and expressivity. Born in Jakarta, Indonesia and now a citizen of the United States, he is the first and only conductor of Chinese descent who holds a music director position with a major orchestra in the US and has conducted all of the major symphony orchestras in North America including Boston, Chicago, Cleveland, Los Angeles, New York, Philadelphia, Pittsburgh and San Francisco. The 2014-15 season marks his 11th season as Music Director of the San Diego Symphony.  In October of 2013 Mr. Ling led the San Diego Symphony for a sold out concert at Carnegie Hall with Lang Lang as soloist followed by a tour to China where the Orchestra appeared in five concerts in Yentai (sister city of San Diego), Shanghai and Beijing (at the National Center for the Performing Arts and at Tsinghua University) with soloists Joshua Bell and Augustin Hadelich. This two week tour was the first international tour and the first appearance of the San Diego Symphony at Carnegie Hall in their 102 year history. The orchestra's performances, conducted by Mr. Ling, have also received the highest praise from public and critics alike, having been broadcast both locally and nationally. Mr. Ling and the Orchestra have recently released eight new live recordings (the Symphony's first in a decade). Together they have undertaken commissions as well as premieres of many new works and recorded new works of Bright Sheng for Telarc Records (released in summer of 2009) and a new CD of Lucas Richman's Behold the Bold Umbrellaphant and Saint-Saëns' Carnival of the Animals with soloists Jackie Parker and Orli Shaham distributed by Naxos in 2013. Most recently, Mr. Ling and the Orchestra have commissioned two works for orchestra: Night Parade (which was premiered in Carnegie Hall in October 2013) and a new violin concerto (which will be premiered in San Diego during the 2014-15 season). Under his leadership, the San Diego Symphony has been designated a Tier One major orchestra by the League of American Symphony Orchestras, based on a new level of unprecedented artistic excellence, its continuing increase in audience attendance as well as its solid financial stability. Mr. Ling's contract has recently been extended by the Symphony's Board on an evergreen basis.
In recent and upcoming seasons Mr. Ling returns as guest conductor with the Adelaide Symphony, Cleveland Orchestra, Hangzhou Philharmonic, Hong Kong Philharmonic, Jakarta Symphony, Louisiana Philharmonic, Macao Symphony, Pasadena Symphony, Philharmonia Taiwan (National Symphony of Taiwan), Royal Philharmonic of London, Sydney Symphony Orchestra, Vancouver Symphony, West Australia Symphony as well as Yale Philharmonia and Curtis Symphony Orchestra. In June of 2012 he conducted the Schleswig Holstein Festival Orchestra in Berlin's O2 World on the occasion of Lang Lang's 30th birthday concert with Lang Lang, Herbie Hancock and 50 young pianists from around the world. The concert, attended by more than 10,000 people, was also telecast live by German and Spanish TV.
Mr. Ling holds one of the longest continuous relationships with one of the world's greatest orchestras, The Cleveland Orchestra. In the 2013-14 and 2014-15 seasons, he will celebrate his 30th anniversary with that esteemed ensemble with performances at Severance Hall, the Blossom Festival and Palm Beach, Florida. He first served as Associate Conductor in the 1984-85 season, and then as Resident Conductor for 17 years from 1985-2002 and as Blossom Festival Director for six seasons (2000-2005). During his tenure with the Orchestra, he conducted over 450 concerts and 600 works, including many world premieres. Among his distinguished services as Resident Conductor, Mr. Ling led the orchestra's annual concert in downtown Cleveland, heard by more than 1.5 million people. His telecast of A Concert in Tribute and Remembrance with the Orchestra for 9/11/2011 received an Emmy® Award. The U.S. House of Representatives presented a Congressional Record of his outstanding achievements in the U.S. Capitol in September 2006. Prior to his Cleveland appointment, Mr. Ling served as Assistant and Associate Conductor of the San Francisco Symphony. Deeply committed to education, Mr. Ling served as founding Music Director of the Cleveland Orchestra Youth Orchestra (1986-1993) and the San Francisco Symphony Youth Orchestra (1981-84).
Mr. Ling made his European debut with the Leipzig Gewandhaus Orchestra in 1988 to great acclaim. His other engagements abroad have taken him to the Chamber Orchestra of Lausanne, Copenhagen Philharmonic Orchestra, China Philharmonic in Beijing, Guangzhou Symphony, Malaysian Philharmonic, Macao Symphony, MDR Symphony Orchestra in Leipzig, Netherlands Radio Philharmonic, NDR Radio-Philharmonie in Hannover, NDR Symphony Orchestra in Hamburg, Orchestre Nationale du Capitole de Toulouse, Royal Philharmonic of London, Rundfunk-Sinfonieorchester Berlin, Shanghai Symphony, Singapore Symphony, Stockholm Philharmonic, and Tokyo's Yomiuri Nippon Symphony. As part of the celebrations marking the return of Hong Kong to China, Mr. Ling led the Scottish Chamber Orchestra on tour in May 1997. In May 2000 his debut performance with the St. Louis Symphony and cellist Yo-Yo Ma was featured on the ABC News program 20/20. In 2001 Mr. Ling was invited to conduct the Super World Orchestra, an orchestra comprised of principals of 30 of the most prominent orchestras in Europe, America and Asia for performances in Osaka and Tokyo. In 2009 he conducted the Worldwide Chinese Festival Orchestra in the new National Center for the Performing Arts in Beijing, an orchestra comprised of the best Chinese musicians who hold major positions with the world's most prestigious orchestras. His performance was telecast by Chinese Central Television (CCTV) and was made available for video streaming on their website. Chinese Central Television (CCTV) and Phoenix Television in China also telecast an hour-long profile of his musical journey worldwide.
Mr. Ling is acclaimed not only for his interpretation of the standard repertoire, but also for the breadth of contemporary music included in his programs. Among the world premieres he has conducted are works by William Bolcom, Paul Chihara, Gordon Chin, Daniel Kellogg, George Perle, Bright Sheng, Alvin Singleton, Augusta Read Thomas, Michael Torke, Mark Anthony Turnage and Ellen Taaffe Zwilich, with orchestras including The Cleveland Orchestra, Detroit Symphony, The Florida Orchestra, New York Philharmonic and San Diego Symphony.
Mr. Ling also demonstrates a strong commitment to working with young musicians and has conducted the orchestras of the Juilliard School, the Curtis Institute and the Aspen Music Festival.
His tenure as Music Director of the Florida Orchestra (1988-2003) was a notable artistic success, both in the Tampa Bay region and beyond. The significant contribution he made to the cultural life of the area was recognized by the mayors of Tampa and St. Petersburg, who presented him with keys to the city in April 2002 and further honored him through a declaration of "Jahja Ling Day" in February 1998. With the Florida Orchestra, Jahja Ling was the first conductor ever invited to appear at the Super Bowl (XXV in 1991) with Whitney Houston performing the National Anthem, and the audio and video of that performance earned platinum records. He was named Music Director Laureate in 2002. Additionally, Mr. Ling served as Artistic Director of the Taiwan Philharmonia (National Symphony Orchestra) from 1998-2001 and was named their honorary conductor thereafter.
Mr. Ling's recordings for Telarc include the Dupré Organ Symphony and the Rheinberger Organ Concerto with soloist Michael Murray and the Royal Philharmonic Orchestra, and two albums of baroque works with the Scottish Chamber Orchestra (the first of which, with trumpeter Rolf Smedvig, was nominated for a Grammy® Award). In 1998 Azica Records released a disc with Mr. Ling and the Florida Orchestra entitled Symphonic Dances, featuring Bernstein's Symphonic Dances from West Side Story, Strauss's Rosenkavalier Suite and Ravel's Suite No. 2 from Daphnis and Chloé. Mr. Ling and The Florida Orchestra have also recorded Stephen Montague's From the White Edge of Phrygia for Continuum. His performance with the New York Philharmonic of the world premiere of Ellen Taaffe Zwilich's Third Symphony is featured in a recent compact disc collection of Philharmonic performances entitled American Celebrations. Recent releases with The Cleveland Orchestra include a special edition CD featuring Mr. Ling and the orchestra performing Saint-Saëns' Organ Symphony for the rededication of Severance Hall's Norton Memorial Organ.
Mr. Ling began to play the piano at age four and studied piano with Suzy Djoeandy since he was seven. Later he studied with Rudy Laban at the Jakarta School of Music.  At age 17 he won First Prize at the Jakarta Piano Competition and one year later was awarded a Rockefeller grant to attend The Juilliard School, where he studied piano with the great piano virtuoso Mieczysław Munz and conducting with John Nelson. After completing a master's degree at Juilliard, he studied orchestral conducting at the Yale School of Music under Otto-Werner Mueller and received a Doctor of Musical Arts degree in 1985. He was also awarded an honorary doctorate by Wooster College in 1993. In the summer of 1980 Mr. Ling was granted the Leonard Bernstein Conducting Fellowship at Tanglewood and, two years later, was selected by Mr. Bernstein, who became one of his most influential mentors, to be a Conducting Fellow at the Los Angeles Philharmonic Institute. In 1988 Mr. Ling was a recipient of the coveted Seaver/National Endowment for the Arts Conductor's Award, a career development grant made to American conductors of extraordinary promise.
As a pianist, Mr. Ling won a bronze medal at the 1977 Arthur Rubinstein International Piano Master Competition in Israel and was awarded a certificate of honor at the following year's Tchaikovsky International Piano Competition in Moscow. He made his Cleveland Orchestra debut as a pianist in 1987 and has appeared as both soloist and conductor with a number of orchestras in the United States and internationally.
Mr. Ling makes his home in San Diego with his wife, Jessie, and their young daughters Priscilla and Stephanie.