NEWS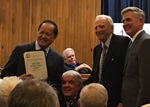 Jahja Ling Receives Classical Music Icon Award from Bravo San Diego and San Diego County!
In January 2017, Jahja Ling received a Classical Music Icon Award from Bravo San Diego and San Diego County Supervisors Dave Roberts and Kristin Gaspar in recognition for his services to music and the arts in San Diego County. The ceremony took place in the San Diego County Administration Building. Fellow 2017 Icon Awardees were Cabaret Icon Leigh Scarritt, Theatre Icon Linda Libby and Dance Icon John Malashock.
Jahja Ling Receives 2016 UPLIFTing Award!
On November 1, 2016, Jahja Ling recieved an UPLIFTing Award from UPLIFT San Diego. UPLIFT stands for Urban People Living in Faith & Trust. They are a non-profit Missional Ministry, founded in 1987 to serve in San Diego's Inner-city and beyond. Today UPLIFT Volunteers transform lives through essential Student Services & Homeless Services. Their motto is "Four Programs – One Purpose, to lift up San Diego with God's Love." UPLIFT honored Jahja Ling and four other prominent San Diego leaders for their acts of faith, love & goodwill in the community.
Jahja Ling Opens 13th and Final San Diego Symphony Season with Well-Reviewed Concerts Featuring Violinist Gil Shaham!
October 2016 saw Jahja Ling conducting the opening weekend of concerts for his 13th and final season as Music Director of the San Diego Symphony. The concert featured violinist Gil Shaham performing the Mendelssohn Violin Concerto as well as the Brahms Symphony No. 3. Mr. Ling opened the concert (and the American music-themed season) with William Schuman's American Festival Overture. Enthusiastic reviews for these concerts can be seen on the Reviews page.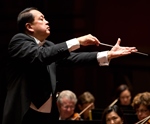 Jahja Ling Concludes 12th SDSO Season to Rhapsodic Reviews!
In April and May of 2016, Jahja Ling led the San Diego Symphony Orchestra in a series of concerts highlighting glories of the Austrian, German and American repertoire. The end of April saw two well-received performances of Gustav Mahler's Symphony No. 6, the Tragic. Two weeks later cellist Johannes Moser appeared in performances of Richard Strauss' Don Quixote in concerts that also featured Richard Wagner's Siegfried Idyll and Franz Schubert's Unfinished Symphony. The season concluded with an all-American program of music by Samuel Barber (School for Scandal Overture), George Gershwin (Piano Concert in F, stunningly interpreted by Jean-Yves Thibaudet), Aaron Copland (Appalachian Spring) and Maestro Ling's great teacher Leonard Bernstein (Chichester Psalms). The excellent notices for these concerts can be seen on the Reviews page.
Jahja Ling in Residence: Distinguished Principal Guest Faculty at Cleveland Institute of Music!
From March 13 to April 6, Jahja Ling conducted a series of concerts and teaching seminars and master classes in Cleveland as Distinguished Principal Guest Faculty at the Cleveland Institute of Music (CIM). A March 18 program not only involved the CIM students but the community choruses consisting of the Cleveland Community Chorus and high school students from Cleveland School of the Arts, who gave a focused, disciplined and incredible effort to sing a difficult Johannes Brahms choral work, Schicksalslied (Song of Fate) in German. Maestro Ling's next concert, in Severance Hall, was sold out weeks before; it began with Brahms' Academic Festival Overture, then the Brahms, followed by a wonderful Mahler First Symphony. Maestro Ling also gave many seminars and classes for conducting students, including score analysis, conducting and rehearsal technique, watching them conduct ensembles of all sizes. He also gave masterclasses for pianists in concerto preparation and collaboration in performance with an orchestra. There were also CIM rehearsals involving principal musicians of The Cleveland Orchestra "sitting in" under Ling's baton. Says Maestro Ling, "It was amazing to see… these great musicians stayed throughout the entire rehearsal and showed the students how to correctly execute my directions by playing the excerpts on their own instruments. It was truly spectacular session." A second program happened at Kulas, a smaller hall, but it was broadcast live by WCLV. The program featured the Prokofiev Piano Concerto No. 3 and Arutiunian Trumpet concerto, each performed by student concerto competition winners. Maestro Ling also conducted Prokofiev's Lt. Kije and Ravel's La valse. Interim CIM president Gary Hanson reports that Ling's visit "had a tremendous impact on the school."
Jahja Ling Conducts + Performs at SDSO's Piano Festival!
On the weekend of January 29-31, Jahja Ling performed double duty as conductor and pianist at the Jacobs Music Center on the occasion of the San Diego Symphony's very well-received Upright & Grand Piano Festival. On one program, Mr. Ling led a performance of Beethoven's Pastorale Symphony and then conducted pianist Arnaldo Cohen for Brahms' Piano Concerto No. 1. On the other program, in addition to conducting piano-originated works by Debussy and Ravel, Mr. Ling joined his wife, Jessie Chang, and special guest Conrad Tao for a rare performance of Mozart's Triple (or Lodron Piano Concerto. There were also "four-hands" performances of works by Dvořák, Brahms and Gershwin. (Check the Reviews page for positive notices written for these concerts.)
Jahja Ling Begins his 12th Season in San Diego!
Conductor Jahja Ling began his 12th season as the Music Director of the San Diego Symphony Orchestra with a weekend of concerts with pianist Yuja Wang (reviewed here). He then conducted ecstatically reviewed concerts with violinist Sarah Chang and Tchaikovsky's Pathétique Symphony. (CLICK HERE to read those reviews!) Ling concluded his 2015 with triumphant performances of Brahms' Double Concerto with cellist Alisa Weilerstein and SDSO Concertmaster Jeff Thayer as well as (for the first ever by the SDSO) Hector Berlioz's Te Deum with the San Diego Master Chorale (reviewed here.)

Jahja Ling in Cleveland!
After his concerts in China and Jakarta, conductor Jahja Ling returned to the United States just in time to celebrate his remarkable, unprecedented 30 year association with The Cleveland Orchestra. An August 15 Severance Hall concert featuring pianist Orion Weiss was conducted by Mr. Ling; the following evening he conducted at concert at the Blossom Festival in which cellist Yo-Yo Ma made a special appearance complete with a special 30th Anniversary cake for Mr. Ling! CLICK HERE to read more about this very special Cleveland weekend!
Jahja Ling in Hang Zhou and Jakarta!
Conductor Jahja Ling had a very eventful summer of 2014. He conducted concerts in Hang Zhou, China as well as in his birthplace, Jakarta, Indonesia. Mr. Ling conducted the Third Symphony of Johannes Brahms with the Hang Zhou Philharmonic, a performance applauded by the audience for six curtain calls. With the Jakarta Symphony and the Jakarta Oratorio Society, Jahja Ling conducted more Brahms: the monumental German Requiem. The Jakarta concert was a very special occasion for Mr. Ling, representing the concert debut of his oldest daughter, Priscilla Ling, performing J.S. Bach's Piano Concerto in F minor.The concert also featured Jessie Chang (Priscilla's mother) performing Ludwig van Beethoven's Piano Concerto No. 2 in B-flat Major. CLICK HERE to read more about these concerts!
Fine Magazine has published a feature article about Jahja Ling and his wife and fellow musician, Jessie Chang, in their August 2014 issue!
Jahja Ling in Australia and Hong Kong!
After receiving a call on Sunday evening March 9, Jahja Ling was suddenly starting his scheduled Australian tour a week early! 35 hours, five airports and three very long flights later, he had arrived in Perth to rehearse the West Australian Symphony Orchestra for weekend performances in place of their indisposed conductor with a half hour to spare! Per The West Australian reviewer Rosalind Appleby, the performance of music by Elgar, Tchaikovsky and Strauss came off very well, especially given the extraordinary coordination of effort to ensure Mr. Ling's timely arrival for his single day of rehearsals! Just after his Australia visit, Jahja Ling stopped by the Hong Kong offices of the South China Morning Post's senior music critic for an in-depth feature article.
Jahja Ling, San Diego's Ambassador for the Arts!
San Diego Tourism Authority recently launched its San Diego Ambassador Campaign: "Guide to the Good Stuff." Notable among the "ambassadors" is San Diego Symphony music director Jahja Ling, the only member of the San Diego arts community selected to participate in this campaign. The campaign features three video clips shot at the Jacobs Music Center, Balboa Park and various locations around San Diego. Maestro Ling appears in three separate videos highlighting the following themes: "Celebrating the Arts," "San Diego as a Musical Instrument" and "The Spectacular Symphony!"